Research and teaching activities can rely on a number of technical laboratories at the Department of Chemical Sciences. The DiSC technical laboratories support the development of new devices and prototypes, the maintenance of the actual services networks and the fixing of the instruments. Their activities extend from the glassblowing to the mechanical, from the electric through the electronic to the automation. The technical laboratories have been developed in synergy with the growth of the department itself, from the very foundation of the experimental science of chemistry in the University of Padova to the new requests of the interdisciplinary nature of the frontiers of science and technology. The DiSC Technical Laboratories are deeply interconnected with each other, in order to deliver an integrated service to scientists, on the basis of the close-knit team of technical experts. The highly flexible know-how grown in the DiSC technical laboratories offers support for the technology transfer to the surrounding economy and services to industries where possible.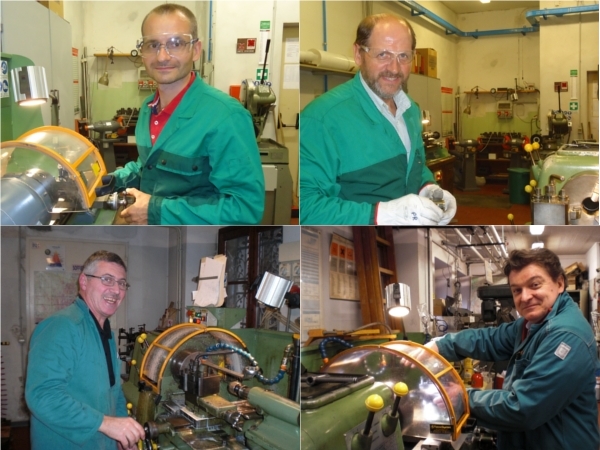 Two Mechanical Workshops are housed at DiSC. They are equipped with four lathes (SLIVEN ZMMCU400, SAIMP BSIM, SCHAUBLIN 102 TO), two vertical milling machines SAIMP FVOLA, two vertical drill machines (F.ROSA, OLIVETTI TS15), a circular blade cropper PEDRAZZOLI SPA super brown, two grinding machines TOMMASI & BONETTI equipped with air aspirator and filters, a manual parallel shear machine for flats HYLLUS, a lever shear for flat cuttings ABC UTENSILI, a lever shear for angle profiles, a forming press for flats HYLLUS and a park of micrometers, gauges and the common measurement instruments, including the common mechanical portable electric machine tools.
The DiSC Mechanical Workshops realize a wide range of components to meet the requests from the chemistry research and teaching laboratories. Cells, reactors, housings for cells and sample compartments, supports for the instruments or encapsulation of commercial equipment in special chemical environments, with the control of some physical parameters, ad-hoc developed mobile parts are commonly designed and realized in strict connection with the scientists. A wide range of materials is commonly treated, both metals as stainless steel, brass, aluminum and plastics as PEEK, PVC, PTFE, in order to manage the research necessities, which often include chemically hostile environments, cryogenic or plasma temperatures, high vacuum and high pressure conditions. They provide service to industries where possible.
contacts: lorenzo.dainese@unipd.it ; roberto.inilli@unipd.it ; stefano.mercanzin@unipd.it ; michele.maggini@unipd.it
location at DiSC: 170-00-22; 215-00-134